Stamex is a Dutch-owned group of companies with its premises in Thailand. Since 2005, Stamex has become a leading manufacturer of equipment for the starch processing industry.
The owners, Henk de Vries and Mark Schuur have extensive experience in the starch industry.
Their hands-on, no-nonsense approach, combined with extreme determination for quality and innovation, resulted in a trustworthy company with 70 employees selling worldwide
The Stamex group consists of 3 companies:
Stamex Technology Co.,Ltd. is a Thai registered, BOI promoted company, active in engineering and manufacturing of starch processing equipment.
Stamex Precision Works Co., Ltd. is a Thai registered company, active in machining parts for ST, after-sales services (maintenance), and trading for the Thai market.
Stamex International Limited is a Hong Kong registered company, active in trading the ST equipment, parts and services for the overseas markets.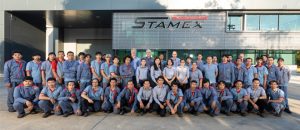 Our mission is to manufacture starch processing equipment and services that excel in quality, innovation, durability and best price-performance ratio.
The mission is achieved by:
45 years of manufacturing experience
State of the art manufacturing workshop, using the latest CNC and laser-cut machines, highly skilled welding professionals, dedicated mechanics, situated at a cost-effective location.
Use of the best quality (imported) materials and components.
Spacious head office, facilitating administration and engineering using the latest design programs.
R&D testing facility in which the new innovations are developed and tested.
Strategic partnerships with other suppliers, to provide turnkey solutions
The experienced service team provides fast and effective service.
Spare parts storage in Thailand and The Netherlands.
Innovation is paramount to Stamex. We put a lot of effort and resources in improving our equipment and developing new products, resulting various PATENTS PENDING.
MILESTONES
2005 Stamex Technology was founded
2006 First production area
2006 Stamex workshop I
2007 1st major project (Tapioca starch)
2007 BOI granted for Stamex Technology
2009 1st major overseas project (Tapioca, Indonesia)
2009 Stamex workshop II
2010 Stamex Precision works were founded
2011 Stamex International Limited (Hongkong) was founded
2012 Expansion Stamex workshop III and IV (area enlarged 200%)
2013 Major worldwide spare part contract with the leading manufacturer
2014 1st major project in Australia (wheat starch)
2014 1st major project in Russia (wheat starch)
2015 1st major project in Europe (wheat starch)
2016 1st major project in Vietnam (Tapioca Starch)
2017 1st major project in Africa (Tapioca Starch)
2018 New R&D test area
2018 Upgrading production line with laser-cut and CNC machinery
2019 New head office